The athlete as an agent of engagement in the world of sports
Michel Cutait is a Senior Executive Director, lawyer and professor. He currently works as Deputy Secretary General at World Obstacle, institutional name Fédération Internationale de Sports d'Obstacles, the international governing body for obstacle sports (Obstacle Course Racing, Ninja and Adventure Racing) and related events, where he runs the Secretariat working actively in the areas of governance, membership, partnership, development and compliance. Graduated in Law, has a Masters in Law in Brazil, Marketing in Australia and a Masters in Sports Administration and Technology at EPFL (AISTS) in Lausanne, Olympic Capital. He has written 5 books, the last one called Management Performance Rio 2016 Olympic Games.
The world of sports has already realized that it needs to establish a more direct conversation between sports, athletes, organizations, participants, brands, fans and spectators, that it needs to optimize its engagement strategies to create more committed, sustainable and positive relationships and connections.
Who doesn't remember the many blogs where ordinary people shared their opinions, experiences and ideas on various subjects? They went on growing and growing, and moved out of their own "clusters", into social networks, migrated from written words to photos (Instagram), to videos (Youtube), podcasts, social networks for younger audiences (TikTok), and live streaming channels.
What does this whole movement have in common in the mission to engage other people?
This entire phenomenon, strongly driven by digital tools, reflects an atavistic human need, a recurring experience in any society, regardless of its peculiar cultural aspects. When an entity (a person, brand, company or organisation) becomes an influencer, it provides examples of information, behaviour, ideas and values. And the other people who are getting these inputs start to perceive these influencers as a reference, as a mirror for their own identities.
With the social networks, this became even more evident, it became wider and reached a scale that was not possible before, and it is still not possible to predict which will be the new platforms, environments and applications that will exist to allow these manifestations to continue advancing and transforming.
Engagement, in any kind of industry or market, and also in sport, is strongly linked to the aspirational aspect of the message, because it intensifies and becomes better when the people to whom the message is addressed (target audience), can identify themselves in that example, to the point of being influenced to think, act and behave in a certain way or towards a particular direction that seems to be a positive journey to improve their own lives.
However, the power of influence also has a very sensitive limit, and that limit is authenticity.
When a blogger from the past, or an Instagram influencer, or a Youtuber or whoever is influencing other people starts to " commercialise" or " merchandise" the content of the message excessively, then people become frustrated and suspicious, because they realise that somehow they are being manipulated, and consequently start to react negatively, and what could be a good strategy ends up losing its power of influence and engagement.
It is no wonder that many brands, products and companies, and also the influencers themselves, have started to change their approaches, to try to create a more authentic, spontaneous and truly inspiring engagement.
The figure of the "Ambassadors" arises to minimize this risk, because they are not only instruments of "promotion or advertisement" of brands and products, but they are people with great ability to influence others, notably for their capabilities, achievements, success or authority on various subjects, but above all they demonstrate a shared purpose, beliefs and values for determined ideas, questions and achievements.
These ambassadors manage to bring together the strength of their personal and professional stories, with a message full of relevant purposes, common goals and examples of success, and all these things serve as inspiration for other people.
In the world of sports it is no different, and besides the organization leaders, skilled executives and key players, such as journalists, critics and sports commentators, nowadays the athletes have become essential " thrusts " to generate engagement, not only in social networks but also in all other media channels and vehicles, including television, OTT, magazines and even games.
Athletes are the true "Agents of Sport", they are the ones at the heart of this ecosystem, they are the protagonists with stories of overcoming, examples of perseverance, outstanding victories (and also defeats) and they have an authentic capacity to deliver aspirational messages to all fans and also to all people who enjoy, practice and follow sports. They are the ultimate sources of inspiration in sports.
Beyond all the above, especially with the live streaming, fans, supporters and spectators are increasingly interested in seeing, hearing and learning about the individual personality of each athlete, with his or her qualities, difficulties and victories. Everyone wants to be closer to their idols, as if they were true friends.
Just to get a more targeted picture of the power of athlete engagement, I've organized this illustrative chart with eight sports, football, basketball, tennis, track & field, golf, automobilism, MMA and Alpine Ski, with the best examples of athletes in both genders, with the numbers of followers on Twitter and Instagram.
The numbers are impressive and show how athletes are true icons to promote not only brands, products and companies, but mainly to deliver messages, values and experiences that are easily perceived and identified by all fans.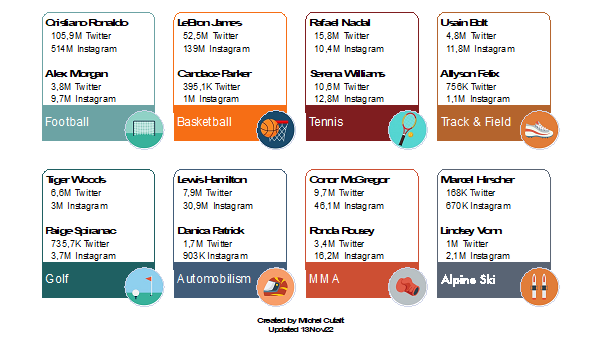 It does not matter if it is a blog, a video, a social network, an interview, a podcast, or any other form of communication of these examples, what matters is that the content must be authentic, true, that the story which is being shared makes people feel connected, identifying themselves with these influencers, being inspired by their examples, because it is exactly this emotional attachment that will make the engagement transform individual experiences into aspirational lifetimes that create meaningful, committed and long-lasting relationships.